Tetra Pak Regualting Valves Unique RV-P
Unique RV-P is a hygienic electro-pneumatic regulating valve that replace the SPC-2 valve. The valve body is modular with the Unique SSV single seat valve family and is equipped with the latest positioner technology.
Product Description
For use in applications which require presision control of pressure, flow, temperature, level in tanks etc.
Features & Benefits
The Unique valve body secure the highest product safety and reliability

The Unique RV-P features an electro-pneumatic actuator with integrated IP converter and integrated positioner, which contribute to greater operational accuracy and reliability

The positioner for Unique RV-P valves are IP66 certified for water and dust protection

A clear LCD display and an intuitive user interface makes the setup easy
Options 
Aseptic version can be configuration utilising the well-proven aseptic diaphragm from the Unique SSV aseptic valve
RV-P Inch
Normally closed (NC)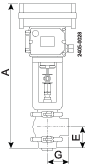 Actuator: Electro pneumatic
Material: 1.4404 (316L)
Connection: Welding ends
Seals EPDM
Normally open (NO)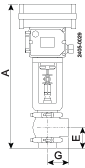 Actuator: Electro pneumatic
Material: 1.4404 (316L)
Connection: Welding ends
Seals EPDM
RV-P DIN
Normally closed (NC)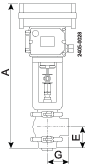 Actuator: Electro pneumatic
Material: 1.4404 (316L)
Connection: Welding ends
Seals EPDM
Normally open (NO)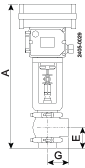 Actuator: Electro pneumatic
Material: 1.4404 (316L)
Connection: Welding ends
Seals EPDM